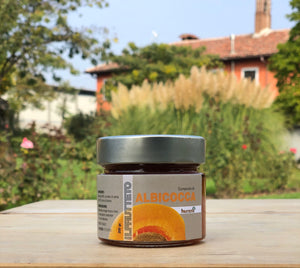 DESCRIPTION
Fruit of the production of the orchard, skilfully transformed in the laboratory into high quality products.
Composed with a unique and genuine taste, perfect to accompany breakfast or to enrich your delicious recipes.
INGREDIENTS
Apricots, organic cane sugar.

May contain traces of: gluten, eggs, soy, peanuts, milk, nuts, celery, mustard, sesame. May contain seed fragments.
Quantity: 200g
Origin : Italy
Packaging : in glass jar
Conservation method : Store in a cool and dry place, avoiding direct sunlight.