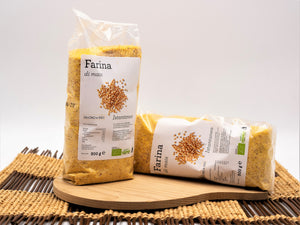 DESCRIPTION

This corn flour is made with the oldest and most selected varieties of corn.
The result is a polenta that is well suited to traditional recipes.
Cooking time: 45-60 minutes, it is perfect for accompanying meat recipes or combined with cheeses and, if toasted, it is excellent for breading.
INGREDIENTS
Corn flour.

May contain traces of gluten.
NUTRITIONAL VALUES


100g
POWER

343 calories

FATS


of which saturated

1.7g

0.2g

CARBOHYDRATES


of which sugars

72g

0.5g

FIBERS

PROTEINS

4.9g

7.6g

SALT


0 g