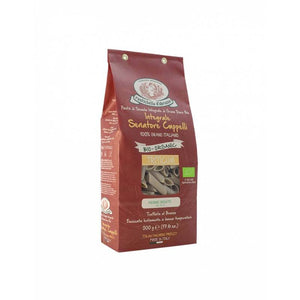 DESCRIPTION
The pasta that tells the story of Abruzzo in the world since 1924. To date it is the most used artisan pasta by the best chefs in the world.
Bronze drawn and dried at low temperatures.
Penne rigate, loved throughout the peninsula and characterized by the typical oblique "nib" cut, are proverbial for their versatility in the kitchen thanks to their design and the presence of deep grooves on the surface, which allow them to better hold, internally and externally. , any seasoning. Produced with certified organic "Senatore Cappelli" durum wheat semolina and with an artisanal production process, Rustichella d'Abruzzo suggests combining them with all those vegetable-based condiments, accompanied by our organic Extra Virgin Olive Oil, for lovers of well being. Cooking time: 8-10 minutes..
INGREDIENTS
Durum wheat semolina, water.

Contains gluten.


NUTRITIONAL VALUES


100g
POWER

343 calories

FATS


of which saturated

1.95g _

0.55g

CARBOHYDRATES


of which sugars

70.8g

3.8g

PROTEINS

FIBERS

12.5g

4.2 g

SALT


0.01 g