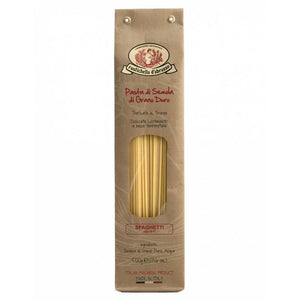 DESCRIPTION
The pasta that tells the story of Abruzzo in the world since 1924. To date it is the most used artisan pasta by the best chefs in the world.
Bronze drawn and dried at low temperatures.
Spaghetti is the best known and most sold pasta format in the world, over the years it has become the symbol of Italian culinary culture as well as a worthy representative of Italy abroad. There are many combinations: from fresh tomato sauce and basil, to seafood-based condiments, passing through the classics such as "Carbonara" and "Cacio e Pepe" up to vegetables. Cooking time: 9-11 minutes.
INGREDIENTS
Durum wheat semolina, water.

Contains gluten.
NUTRITIONAL VALUES


100g
POWER

352 kcal

FATS


of which saturated

1.5g _

0.3g

CARBOHYDRATES


of which sugars

71g

4 g

PROTEINS

FIBERS

7.8g

13.5g

SALT


0.01 g