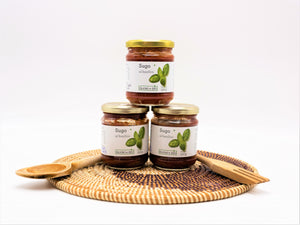 DESCRIPTION
To make this organic sauce, the best tomatoes grown on the Monastero farm are used, harvested perfectly ripe and processed within the day. A linear and transparent supply chain.
The fresh basil is grown, harvested and transported in a short time to the processing site where it is washed, shredded and processed with an excellent tomato purée. Good, genuine and 100% organic!
INGREDIENTS
Tomato purée* 97%, basil*1.1%, extra virgin olive oil*, sea salt, white onion*.

*from organic farming


NUTRITIONAL VALUES


100g
POWER

38 kcal

FATS


of which saturated

0.8g

0.1 g

CARBOHYDRATES


of which sugars

5.2g

4.3 g




PROTEINS




1.7g

SALT

0.4g