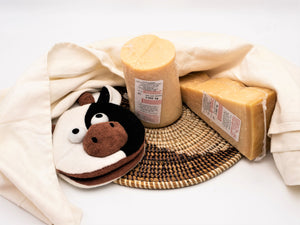 DESCRIPTION
Tipico Lodigiano is the "progenitor" of all Grana cheeses as it descends directly from the ancient Granone Lodigiano.
It is a low-fat cheese obtained from the processing of cow's milk from two milkings with only 2.5% fat.
The milk is produced from cows fed mostly on hay, in which the Ladin clover that grows spontaneously in the fertile land of the Lodi area excels and for this reason we have impressed it on the rind: from the clover the good cheese.
Furthermore, the Tipico Lodigiano is extremely digestible since its proteins, during the maturation phase, were broken down into amino acids that can be immediately assimilated by the body. It is very rich in calcium and lactose free.
INGREDIENTS
Milk , salt, lysozyme rennet

Quantity: approx. 500g
Origin : Italy
Packaging : vacuum packed
Minimum guaranteed deadline : 90 days
Storage method : keep at a maximum temperature of +8°C
NUTRITIONAL VALUES


100g
POWER

384 kcal

FATS


of which saturated

26 g

17 g

CARBOHYDRATES


of which sugars

0 g

0 g

PROTEINS

35 g

SALT


716 mg