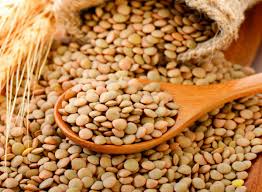 DESCRIPTION
The organic lentils are sown between December and January, in rotation with cereals, vegetables and fodder.
The control of foreign grasses is carried out with summer plowing and false sowing, without any use of synthetic substances. The harvest takes place when fully ripe, between June and July, depending on the year.
In order to preserve the organoleptic characteristics of the grains, the lentils are naturally dried and carefully selected before being packaged.
organic lentils.
INGREDIENTS
Organic lentils.
May contain traces of gluten, soy, fruit a shell , sesame .
NUTRITIONAL VALUES


100g
POWER

291 kcal

FATS


of which saturated

1 g

<0.1mg

CARBOHYDRATES


of which sugars

51g

1.8g

PROTEINS

FIBERS

23 g

14 g

SALT


0.02g