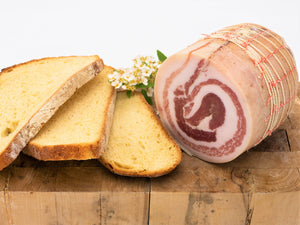 DESCRIPTION
Handcrafted and hand massaged, gluten-free, lactose-free, milk protein-free, GMO-free .
Intense aromas where the hint of pepper stands out, whose persistence is also appreciated.
The taste is confirmed by the pleasant spiciness and resolute notes perceived by the nose. To be served as a classic aperitif in a mixed cutting board or to be used to give taste and softness to roasts. The product is vacuum packed.
INGREDIENTS
Pork bacon, salt, dextrose, herbs and spices.

Preservatives: E250, E252
antioxidant: E301
NUTRITIONAL VALUES


100g
POWER

492 kcal

FATS


of which saturated

47.96 g

19.41 g

CARBOHYDRATES


of which sugars

1.96g

1.54g

PROTEINS

13.34 g

SALT


4.78g