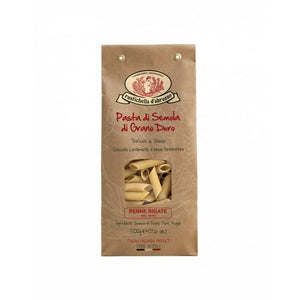 DESCRIPTION
The pasta that tells the story of Abruzzo in the world since 1924. To date it is the most used artisan pasta by the best chefs in the world.
Bronze drawn and dried at low temperatures.
One of the best-known and best-selling short pasta shapes in the world, they are traditionally combined with Rustichella d'Abruzzo "alla Arrabbiata" or "alla Amatriciana" sauce or with a fresh and light condiment based on tuna, mozzarella and cherry tomatoes. Cooking time: 10-12 minutes.
INGREDIENTS
Durum wheat semolina, water.

Contains gluten.
NUTRITIONAL VALUES


100g
POWER

352 kcal

FATS


of which saturated

1.5g _

0.3 g

CARBOHYDRATES


of which sugars

71g

4 g

PROTEINS

FIBERS

7.8g

13.5g

SALT


0.01g