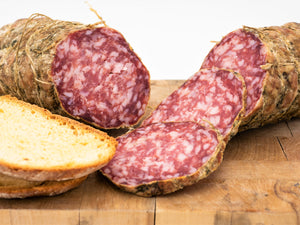 DESCRIPTION
Cured meat with medium ground grain, characterized by the balanced dosage of lean parts, such as cuts of ham, shoulder, trimmings of loin and belly. The aromas and spices masterfully added during processing make it tasty and tasty.
Natural casing, tied by hand and aged in the cellar.
Gluten-free , lactose-free or milk derivatives.
INGREDIENTS
Pork, pork fat, salt, dextrose, flavorings and spices (garlic and wine), preservative: E250 E252, antioxidant E301
NUTRITIONAL VALUES


100g
POWER

270 kcal

FATS


of which saturated

22.28 g

8.66g

CARBOHYDRATES


of which sugars

1.77g

1.37g

PROTEINS

15.56 g

SALT


3.25g