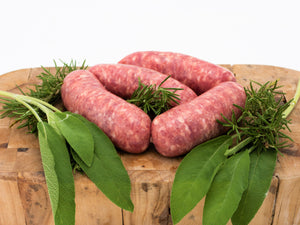 DESCRIPTION
Our salamelle are made from high quality meats.
Excellent both grilled and in risotto. The salamella is produced using only first choice fresh meat from local pigs.
The mixture obtained is then stuffed into natural casings.
Salamella is a very versatile product, it can be cooked on the grill or in a pan, for fillings or added to a good sauce.
INGREDIENTS
Pork, water, salt, dextrose, lactose, natural colouring, red wine (contains sulphites ), natural flavourings, spices, antioxidant E300.
Gluten free
Born : Italy
Breed : Italy
Slaughtered : Italy
Origin : Italy
Quantity : 500g
Packaging : vacuum packed
Storage time : 10 days from the packaging date
Storage method : store at 0-4°C. It is possible to freeze
Method of consumption : to be consumed after cooking

NUTRITIONAL VALUES


100g
POWER

189.6 calories

FATS


of which saturated

13.7g

4.7

CARBOHYDRATES


of which sugars

0.5 g

0.4

PROTEINS

13.9g

SALT


1.95g